Here's where to find the extra money to fund your financial goals.
In an effort to bring our spending down and to cushion our income shortfall over the last year or two, we've been working on stretching our budgets a little further. Unfortunately though, I have the nagging feeling that our budget is still not quite as optimized as we'd like it to be.
For instance, while our utility bills are somewhat lower in general, it's not the case with our water bill, no thanks to the hotter-than-usual summer and drier weather we've been having. Because I'm a big freak about our garden and haven't yet decided to replace our lawn with artificial turf 😉 , we've no choice but to pour a slice of our budget into the upkeep of our yard. Can we really cut our expenses further? I think so. We know there's always room to bring down our bills further if we try hard enough.
Which brings us to the subject of money drains and what it means to really begin operating on a lean budget. Many of us have frittered away some of our money on occasion. But what if we're able to put a stop to the mindless spending that eats up our money without us even realizing it?
In a perfect world, I've wondered how much additional savings we'd be able to build by being more careful with the money that passes through our hands.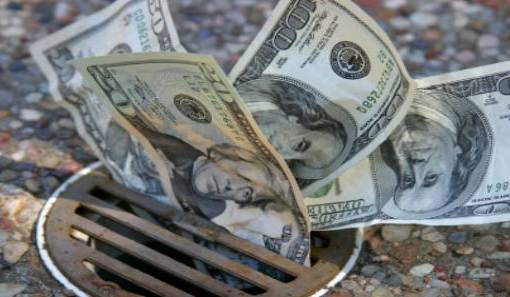 Small Costs Add Up! How Much Money Are You Kissing Goodbye?
The "latte factor" is a phrase (by the financial author David Bach) which describes the way small costs can catch us by surprise. Are you curious about how much you could be trading off for convenience and a bit of enjoyment? The answer may astound you. What I've done is a simple exercise that shows what would happen if we seriously account for the common money drains that besiege our budget. When taken into totality, our vices, habits, impulse purchases and daily fixes can amount to some huge numbers!
But keep in mind that many times, what we consider as a "waste" or money drain can be classified as a guilty pleasure. We may want to ask ourselves if we're willing to give some of these up for the resulting savings.
I've worked out an approximate picture of how much money can fall by the wayside by putting together this table and graph based on Bankrate's and AOL's discussions on well-known money drains.
The table shows the total annual cost of all the money drains combined, plus what your savings would amount to if you invested those savings at an annual rate of 8%, compounded monthly over 10 years.
Money Drain
Average Price
Estimated Annual Cost
Future Value In 10 Years*
Coffee
Average price of brewed coffee: $1.38
One coffee each week day costs around $360 annually.
$5,488

Gum

Average price for one pack: $1
Chew a pack a day for a year: $365

$5,488

Cigarettes
Average price for a cigarette pack: $4.54
Pack-a-day smoker's annual cost: $1,660
Weekend smoker's annual cost: $236
Pack-a-day smoker's cost: $25,247
Weekend smoker's cost: $3,659
Alcohol
Average: $5 per beer (includes tip)
One beer a day, annual cost: $1,825
$27,807
Bottled Water
One 20 ounce bottle costs $1
One bottle a day for a year: $365
$5,488
Manicures
Average cost: $20.53
Weekly manicure, for a year costs $1,068 a year
$16,282
Car washes
Average cost: $58
Cost of detailing every 2 months, for one year: $348
$5,305
Weekday lunches out
Daily lunch: $9
Weekday lunches for one year: $2,350
$35,857
Junk food, vending machine snacks, soda
Average snack: $1
Afternoon snacks for one year costs $260
$4,025
Credit card interest charges
Median amount of credit card debt is $6,600. Standard rates average 13.44%.
Minimum payments will take 21 years to pay off the debt, costing $4,868 in interest.
N/A
Unused memberships
Monthly service fees: $35 to $40
Per year, unused memberships cost $480
$7,318
Expensive salon visits: fake nails
Fake nails cost $500 to $600
Getting them done once a quarter for a year costs $2,000 to $2,400
$30,552
Premium gas
At 20 cents more for premium, pumping 20 gallons of it instead of regular would cost $4 more.
Annually, that's a difference of $171 for a vehicle that averages 14 miles per gallon — as some big sport-utility vehicles do — and is driven 12,000 miles a year.
$2,561
Lottery
Typical cost: $10 a week
For one year: $520
$7,867
Direct TV
A basic program can run $100 a month
$1,200 a year
$18,295
Total
$11,548 a year
$175,994
*Future Value is calculated using an 8% annual rate of return over a period of 10 years, compounded monthly.
Let's Check Our Calculations
Let's suppose you are spending $11,548 of what you perceive as "pocket change" on various incidental items. The simple savings calculator I used allowed me to enter a monthly deposit of $962 per month, which was equivalent to the $11,548 of that "found money" annually. Imagine putting that money to better use! When subjecting this monthly contribution to an 8% interest rate that was compounded monthly, the result after 10 years is $175,994. Here are the specifics!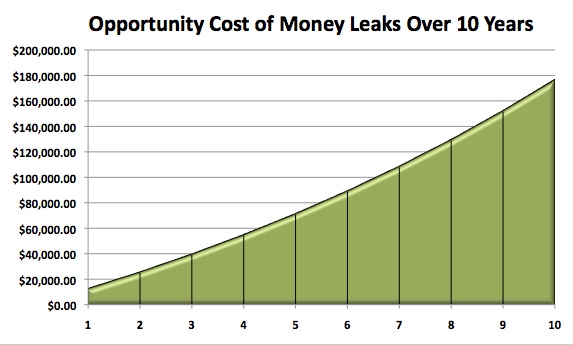 In one short decade, these small, regular expenditures add up to around $175,000. Throw in a few more costly habits and petty charges and your "lost" savings can amount to over $200,000! If the investment climate over the next 10 years turns out to be kinder than it has been recently, a higher rate of return can yield an even larger sum.
The Latte Factor: Money Drains That Can Add To A Lot
If the small stuff can lead to such significant missed savings, what about the larger money leaks that we fall prey to? Some examples:
#1 Unnecessary upgrades
If you're an early adopter of technology, you could be spending more than you should on electronic and gadget upgrades. Or what about room upgrades when you're on vacation? Unless it's a free upgrade, you may want to think twice about paying extra.
#2 Package deals or unneeded extras
I've got a relative who bought a new car and who got suckered into paying for a $2,000 cleaning kit for the car. After two years, he's hardly touched the kit.
#3 Extended warranties
Have you ever successfully used any of your extended warranties? How many times have they expired without being applied? Don't pay for these.
#4 Buying stuff on sale you don't use or need
I know people who rationalize that buying stuff on sale means they're saving money. I don't agree — you're only saving money if you buy stuff on sale you really need and use. If you're hoarding things you'll never use, you're just wasting your hard-earned money and adding to clutter in your home.
#5 Bulk purchases
Buying in bulk only makes sense if you can successfully consume everything (or most of what) you buy. Otherwise, it's just waste on all counts.
#6 Free money that isn't free
How often do you come across free offers that later on snag you for monthly dues? Too often. I signed up for free stuff on a few occasions but have since learned my lesson: the book club selections and free magazines may sound great at first until you can't stop them from arriving at your doorstep! The catch was that I ended up owing money on items received after the "free period" was up.
~ooOoo~
With these illustrations, you can see just how much you may be giving up on savings that may very well be right under your nose! If you think about it, there may be more than enough here for a home down payment, an IRA account, or even to fully fund a 401k account. It may just mean that we need to change our habits to make room for these priorities.
Copyright © 2008 The Digerati Life. All Rights Reserved.